Raccoon Mountain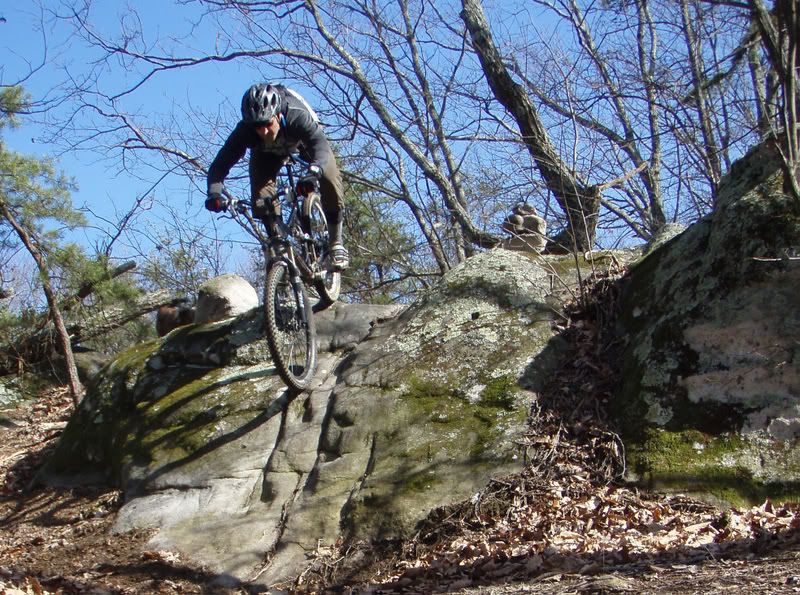 I woke up Sunday to a blanket of snow, and almost gave up on the ride. I fielded a few phone calls, and the word on the street was that the precipitation missed Chattanooga, so we made the drive.
Me,
Brian
, Eric and my furry friend Hank; met a large group from Knoxville in the lot at Raccoon Mountain. I was pleased to find a keg in the back of Doug Parkers car, so I filled a cup and suited up. We left the lot going clockwise, and immediately started with a fast, fun and long descent.
The group was about twenty plus riders. It was cool watching the train of riders sweep and corner through the woods.
Eric, Brian, Hank and I made a stop to repair a minor issue on Eric's bike, when he was digging through his pack and found a surprise bottle of Bourbon. Score! The sun was shining bright, and all was well in woods. We began to work our way over to Chunky trails (freeride trail.) We spent the next few hours jumping rocks and playing on those trails; before a persistent need for ribs broke us down. So we stumbled out of the woods and headed for
Sugars Ribs
, where we found the rest of the Knoxville crew enjoying a southern cultural experience. Cheers!
Eric is the big spoon