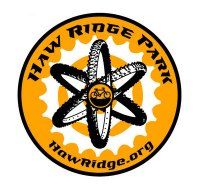 I am guilty of redlining into the woods and loosing track of the group around me. Especially at Haw Ridge on a Wednesday night. I mean, you wouldn't tear off into the mountains in Pisgah with a group and not know if someone was getting left behind.
According to Jay and Jeremy, I went plaid into the woods and disappeared. I was riding in a group with people in front, and people in back. I had no idea they were not "in" until we couldn't find them.
I yelled "hoot tay hooo"... but nothing. They were gone. Sorry, I hope that I didn't ruin your ride.
After a great ride, buzzing tires on fast descents, including Low Gap, Saddle, I and V; we made back to the lot for cold beers and grilled hot dogs. Cheers, everybody knows your name.