Mile-high at check point five, just over the crest of the mountain.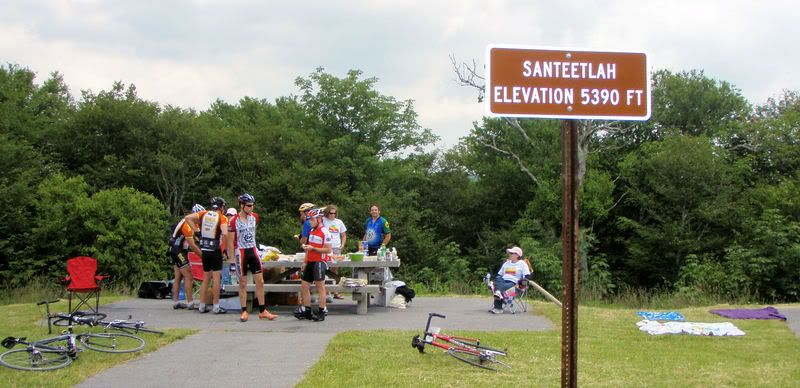 In an altered state, from the long climb, the dead tree and mountains in the background, was just one of many great views along the ride.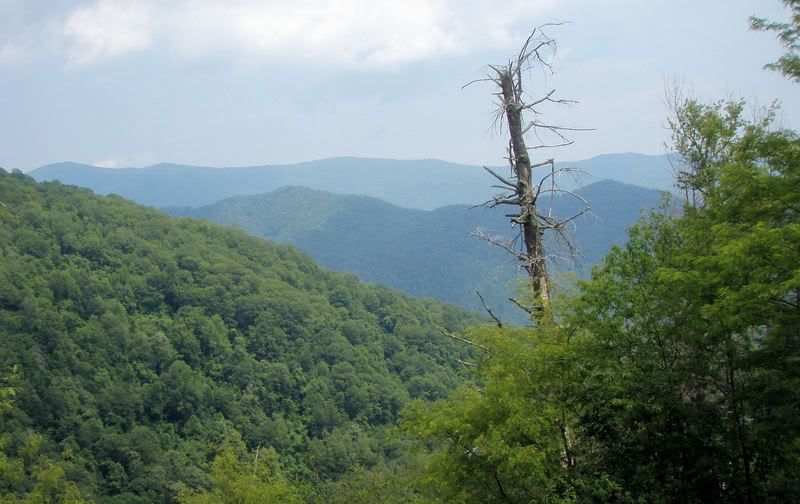 I had a hell of a day in
my first century
. Last nights decision to ride the full Cherohala Challenge was one of the best-bad -decisions eva!
I rode down with Brian, Jeff and Jonathon. The start blew off while I was still lubing my chain, and Forest waited for me. We chased down Jonathon, and I kept going for the front pack while Forest rode with Jonathon.
After about an hour of chasing, I reeled in the fast group, and caught Brian and Jeff right there in a 25 mph paced pack. I struggled to stay with them until we hit the
tail of the dragon
, where the group blew apart. I felt strong through it all and made a good pace having skipped the first rest stop.
We crossed into North Carolina and came up rest stop #2, where I met back up with Brian and Jeff. We made a good pace through the Natahala National Forrest and into the
Joyce Kilmer Slickrock Wilderness
where we started the long climb.
I felt a burst of energy as we made it onto the
skyway
and enjoyed the view! The energy burst faded as I watched other riders break, on the way up. I ran up against the wall over and over again all the way to the top. I've come to enjoy the struggle to increase tolerance for pain.
We topped the mountain and dropped down to the next rest stop at 5390, and we were back in Tennessee (Cherokee National Forrest.) People were loopy up there, including myself, although I was still grinning.
Coming down the Cherohala Skyway was awesome. Blasting corners at 44-mph is a thrill!
The final 15 miles were harder than the first hundred. Climbs came up out of nowhere, and I hurt.
I was stung by a bee at 2 miles to go. It flew into my helmet and stung me in the ear, as I swatted at it. I crossed the finish line in double pain. And some guy from New Orleans pulled the stinger out, when I asked him if there was anything noticeable on my ear.
I finished with 6:40 ride time in 115.46 miles. I'm not sure, but I think my official time was sub-seven hours.
photo credit: Smoky Mountain Wheelmen