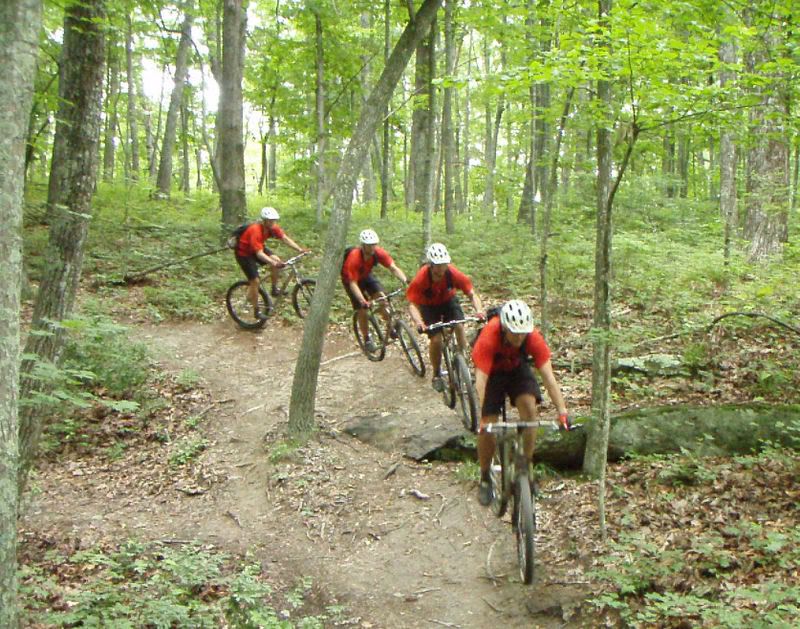 Brian Nickleson,not crashing, at Raccoon Mountain
Hard-crashing feels good when you know how to "roll." Lately, I 've been tested with both bike riding-crashes and life-challenging-crashes. It turns out experiences from a pre-teen playground can prep you for "real-life." I remember crashing as a kid, and rolling out of a spill laughing. I'm still grinning in my mid-thirties diggers.
Last weekend, I made the quick trip down I-75 for a rip around Raccoon Mountain, with Brian and Jeff. We met a few of Jeff's old friends and rode the loop counter-clockwise, tearing it up. Near the end of a great loop, I made a move towards an un-scouted line. The adage look-before-you-leap had gone out the window. The rocks split 3 ways, with one staying low, the other shot the middle with a rolling drop back to the trail. The line I took went high on the rock and I imagined a transition from the height back to the trail, and there was none. I planted the front wheel and spilled into the rocks, and rolled away laughing. It wasn't until 24-hours later that I even felt the hard crash.
Without elaborating on any other crashes, suffice to say, I've chased a few dreams and when the time is right, it will all come together. I feel like I had a brush with a chance of a lifetime, that unfortunately was ill-timed. I'm sorry that I can't say more. But those who know, know that I was quite disappointed and am taking it in stride.
The stride of a long ride will be tested again tomorrow. I am heading down for the Cherohala Challenge. This will be my first road event. Having never done a century, (but come close on many long rides), this ride will be a challenge at 115 miles; up the tail of the dragon and over the Cherohala Skyway topping over 5,300 ft in elevation. That's my kind of road-ride, epic!
As my blog works towards the transition from "bikes, beer and dogs" to photos of a baby girl(!,) Erin has been doing great and having fun. She has been an amazing pregnant woman by being very active. The due date is nearing, just two weeks away.