Valiance in the melting snow
Pisgah Natioanl Forest is an unforgiving playground. Nothing is easy about riding in these mountains. But the reward is huge. As some say, "There's gold in them thar hills."
The crowning race of these woods goes by the name "The Most Horrible Thing Ever." A 36-hour mountain bike race; wich requires navigating 100+ miles of trail, starting at midnight; Friday. The potentail for disaster is near 100%. Racers are guaranteed to break down several times over the weekend.
In my strongest hours, this race was beyond the scope of my interest and fitness. Right now, I am trying to build on some fitness to complete an 7-8 hour version of this race in Spring, and I am a ways off.
Race report: Shawn was blown up, Jon was in the tent hoping someone would come spoon him, to help keep warm.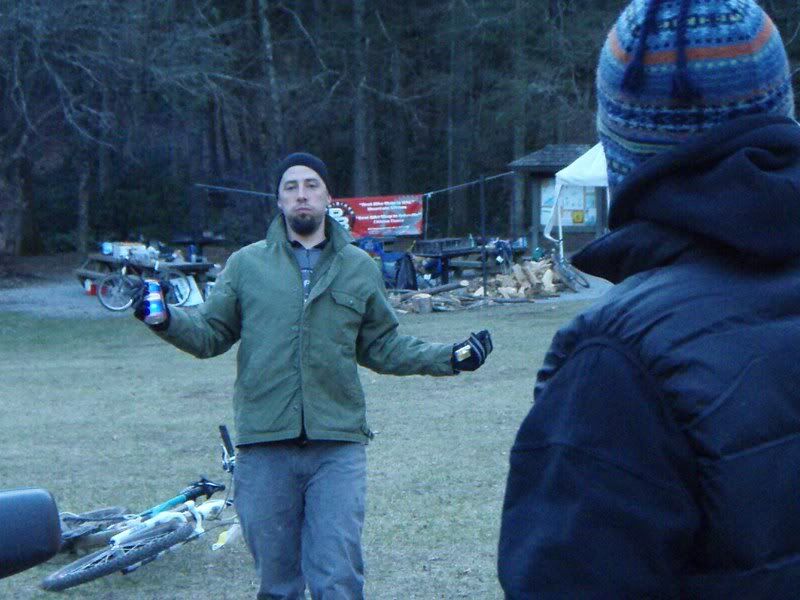 Jon and Shawn set out to race this thing, and lucked out on weather, with a warm February weekend. Brian, Eric and myself made the trip down to Pisgah for a big ride (small in comparison) and to hang out and check on the race reports.
We did a fun ride from Cove Creek Campground (race central): -> Daniels Ridge-> Cat Gap-> Long Branch-> Cove Creek-> back to the cooler-> Cat Gap-> Long Branch -> more cooler and campfire.
Jon and Shawn showed up at the race headquarters, completing the third stage. It was getting dark, and the temperatures had dropped quickly from the sunny 60 degree high. They were in first place, but Jon had gotten very cold and would have to take a rest and try to warm-up. I'll look forward to hearing the results of the finish.
That's my race report. Here's some pics.
EDIT: word on the streets is they finished second! word. Thats huge = Respect.
8:15pm 2-8-09